Unfortunately, Jennifer didn't send us any pictures of what room she was trying to paint
(it must be a secret... shhhh, don't tell anyone she's thinking about painting)
That being the case, I'm going to divulge a few tricks that I use to make almost ANY paint color look better.
I call it,
The Pottery Barn Effect
.
"But Daniel! I don't even shop at the Pottery Barn!"
Settle down...it's okay, neither do I. What I'm referring to is something I noticed years ago in the way Pottery barn presents its products in its advertising.
Here, let me pull up a few images:
Okay, I'm surrounded by a bunch of 'Pottery Barn-esque' pictures. Keep in mind, not every color shown is a particular favorite of mine but they don't have to be. The images are designed to do one thing,
Make The Furniture Look Good.
The interesting thing I started to notice many years ago is that they use a very specific design style in a lot of their catalogs. Look past the furniture and focus just on the rooms, there are a few elements they tend incorporate in the background to help make their furniture look its best.
Notice any similarities yet? Here's what I noticed:
Most of the rooms that have "The Pottery Barn Effect" usually have flat white ceilings as well.
For some reason, I've chosen not to show any examples of that in these pictures.
I blame Jennifer H. She started this whole
let's-not-submit-photos thing. I just didn't want her to feel left out.
Do those elements really make THAT much of a difference? Well, you decide. Take a look at the image below.
How many of you have seen or own a living space like this?
I'm sorry but, 1982 called and wants their everything back. Golden oak stain on the stairs, chair rails, baseboards, doors & windows.... don't stare at that picture too long, I think it comes with a Surgeon General's warning.
There is just nothing inviting about those harsh, dark, trim lines breaking up every single visual aspect of the room. It kind of reminds me of my parents old
Country Squire station wagon
.
Another open living space with "The Pottery Barn Effect"
Doesn't that just make your stomach feel a little better? (I know, you're welcome)
So how do we quickly achieve this effect?
Here are a couple of simple rules to follow when updating a room for paint
TRIM
Replace any existing baseboard, door & window casings with wider trim.
A lot of houses come with a traditional 2 1/2" colonial molding, try stepping it up to a 3 1/2" or maybe a belly-mold with bulls-eyes.
What's a belly mold?
Oops, that's a different type of belly mold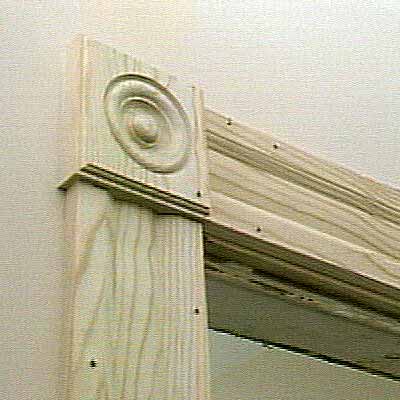 Here it is
They work great with bulls-eye corner blocks for some real extra flair. Also, there are a lot of taller baseboard moldings available. I personally like updating the old colonial baseboard to a
5 1/4" Speed Base
.
PAINT
Use semi-gloss white paint for the trim.
When choosing a trim paint, most use either
oil
or
latex
(acrylic). Oil paint gives a smoother finish but can sag if applied to heavily. It can take more coats to cover and is harder to clean up as well. Latex paint works well but can show more brush marks as it dries faster. The upside is that it cleans up very easily with water. Either works, pick your poison.
When it comes to wall color, It's all about personal preference but if you frame it in white trim? I guarantee it'll look a lot more like the magazines you probably first saw the color in.
When choosing a wall paint, USE LATEX FLAT ENAMEL.
Paint comes in a lot of different sheens such as:
Gloss
Semi-gloss
Eggshell
Satin
Flat
and the one sheen we can never seem get away from.....
When you're painting interior walls, 99% of the time these walls (much like Charlie Sheen) are
NOT
going to be perfect. They never are, learn to accept it (Charlie has). Walls are usually built over wooden studs which crown, twist and bend. The seams of most wallboard are hand smoothed with either plaster or joint compound. Even the best plastered wall rarely holds up to a straight-edge.
Here's the problem: Higher gloss paints reflect light and when light hits those newly painted walls?
You guessed it... you see the imperfections.
Walls painted with a
FLAT
paint aren't nearly as reflective so they do a great job of hiding a lot of those little inconsistencies which will help your walls appear smooth and give your room a cleaner look. The reason I suggest flat
ENAMEL
is because certain walls tend to get more abuse.
In the past, a lot of painters would use an Eggshell paint in bathrooms & bedrooms. It was more durable and helped protect against the higher humidity you find in bathrooms and also in places where little hand-prints had a tendency to show up on walls.
Enamel paint has a lot of the same durability qualities as an Eggshell but none of it's reflective qualities so you can still scrub it a bit without pulling the paint off of the wall or ruining the finish.
When it comes to paint manufacturers, I was always a
Benjamin Moore
fan.
Sherman Williams
was a close second but since Home Depot acquired
Behr Paints
, they've made a lot of effort to make it a worthy competitor at a reasonable price. I've had great success using the Behr premium interior as well as exterior lines of paint. Their
Premium Plus Ultra
all-in-one primer & paint makes a lot of tough walls very easy to cover with only a couple of coats, a helpful quality for amateur painters.
Lastly, when it comes to ceilings? I always prefer flat white.
It keeps the room feeling open and airy which is especially helpful in a room with a lower ceiling height. Try to use a decent grade of ceiling paint so that it won't take as many coats to make your roller marks disappear.
LET'S REVIEW!
Wide trim in semi-gloss white
Flat enamel latex walls
Flat white ceilings
Hey, guess what? You've learned the secrets of The Pottery Barn Effect!
Make sure all of your outlets, receptacles and switch plates are all updated in white as well to tie the room together.
If you don't have any experience replacing outlets or switches, I always suggest you call a professional or
Ask A Home Improvement Expert!
Jennifer H., I hope that answered your question and I
really
hope the ugly room picture I posted wasn't your house. Actually? I hope it was... someone seriously needs to paint that room.
-Cheers!